Logo & Business Card Design
Mrs. CookieStein - Monsterously Yummy Creations! I love creating business cards that capture the imagination and help sell and brand a business. Most business cards and logos are not this complex, but pushing the envelope just a little can make your business stand out from all the others...

Thank you Mr. Tesla!

Please contact me for a quote.

---
.

Texas Flag for an Avicultural Convention Annual Theme Logo - Copyright owned by The American Federation of Aviculture, Inc.

This is a graphically styled image - a 2D design, to be used in promotional materials.
---
Package Design Art



ZuPreem Hand-feeding formulas for baby birds.
Embrace package design pictures Umbrella cockatoo chicks in three stages of development.
Embrace Plus package design pictures Scarlet macaws in three stages of development.

---
Stages of Growth - Umbrella Cockatoo Babies

Package design for ZuPreem
Copyright owned by ZuPreem

---
T-Shirt Designs

Runners on Fire! - Copyright 2012 by Lyrae Perry
"Running on Epi" is a custom design for a large semi-conductor company. The design was created for the company's marathon runners for the Phoenix Marathon sponsored by P.F. Chang in January 2012.
"Epi" or Epitaxial Services refers to the process of creating semi conductor wafers that are turned into computer chips. This is the first step in the complex process -- and it is pretty amazing. Most of us are clueless about how computer chips are created much less about how they work. I feel really lucky to have worked a short time for a company that produces wafers and learn a little bit more about the process. I am no expert, but I have a newly found appreciation for what Joseph Campbell referred to as "A hierarchy of angels, all on slats".
Silicon wafers are thin slices of silicon, coated with various elements in a special chamber called a reactor. The circular wafers spin in the reactor at very high speeds and temperatures and are sprayed with chemicals and elements. When they come out, they look like round black nickel mirrors. The coating is dependent on a "recipe" that is followed for specific conductivity properties, and there are many different recipes. The wafers are checked for flaws, and proper recipe coating, cleaned and packed. The entire process is done in a "clean room" to eliminate contaminants.
The coated wafers are then sold to other companies for further enhancement by etching, or other processes according to end user requirements. The wafers are cut into small rectangular or square pieces and are assembled for use as computer chips. There are many steps and protocols beyond my very simple explanation. It is a fascinating process and one that is evolving constantly. The world is literally "Running on Epi" !

Do you need to find a unique present for a tech? You can get this image on various products at a reasonable price thru' my Zazzle product design store!
Click here:
http://www.zazzle.com/running_on_epi-235365021463243533?rf=238049406435556508
---
Toasted! - copyright by Lyrae Perry 2014
A hot blue version of Running on Epi. Digital artwork. Prints available in any size, various papers including silver, and also canvas prints in any size.
OR...check out my online Zazzle Design store, where you can choose any image and get it on T-shirts, mugs, gift boxes, etc
Here's the link for this particular image, for a man's t-shirt:
http://www.zazzle.com/toasted_running_on_epi-235923798485457625?rf=238049406435556508
---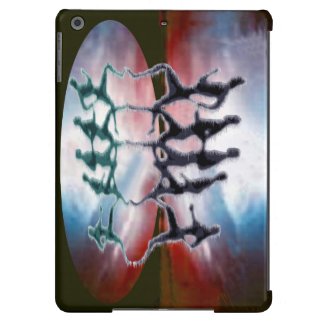 TOASTED Running on Epi! Computer tech design
by
Designs_by_Lyrae
Shop for
iPad Air Covers
online at zazzle.com